Coffee Nerd is an app that is designed for people that are really into brewing the best coffee they can and love to play and experiment with their equipment.
problem

to solve 
How to record our coffee beans and the brewing parameters for every bean and for every brewing method that we use.
this app is for
Coffee enthusiasts that love to try and experiments with their equipment.
version
beta, request for an access

here

 
​​​​​​​
I've always been a
coffee enthusiast
but during a recent trip to NYC I enjoyed working in coffee shop, yeah what a cliché : a freelance iOS developer working on his mac sipping coffee all day long.
Anyway, I really enjoyed to drink
different coffees brewed in different ways
, so I bought some equipments and here I am : making a world of experiments on
how to get the perfect brew
, from different beans, with pour-over cones, french press, espresso and cold brew bottle.
You can tweak water temperature, ground settings, quantity of ground, brewing time and every and
each of these variables would change depending on the beans and the brewing method.
So I would need an app to record my settings, change it frequently and easily in order to experiment and finally always get the best brew at home.
After a disappointing tour / after a long benchmark on the app store : there's not any single app that meet even half of my requirements.

Coffee Nerd
first asks you first what kind of brew method you use (ie : have the equipment for).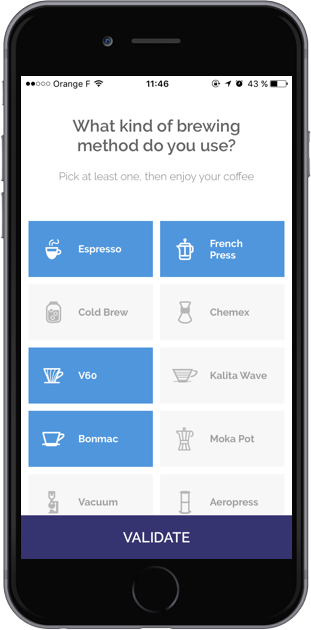 You can then create a
coffee card
for a particular type of beans, indicating its name, origin and the shop where you bought it. Then for each brewing method that you set you can indicate your ideal brewing settings.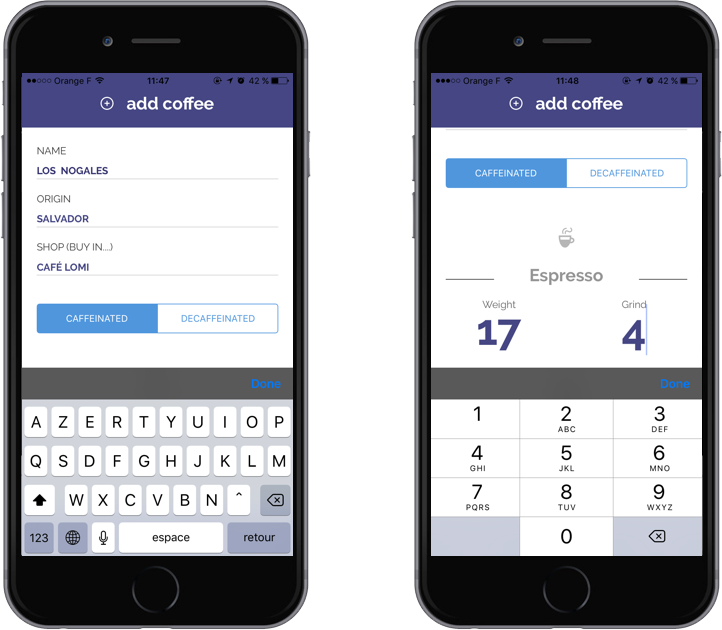 Once setup, you'll be able to match your coffee cards against your brewing methods to obtain a
unique and accurate
set of preparation information.
These information will be easily changed because experiments are the best way to a great brew !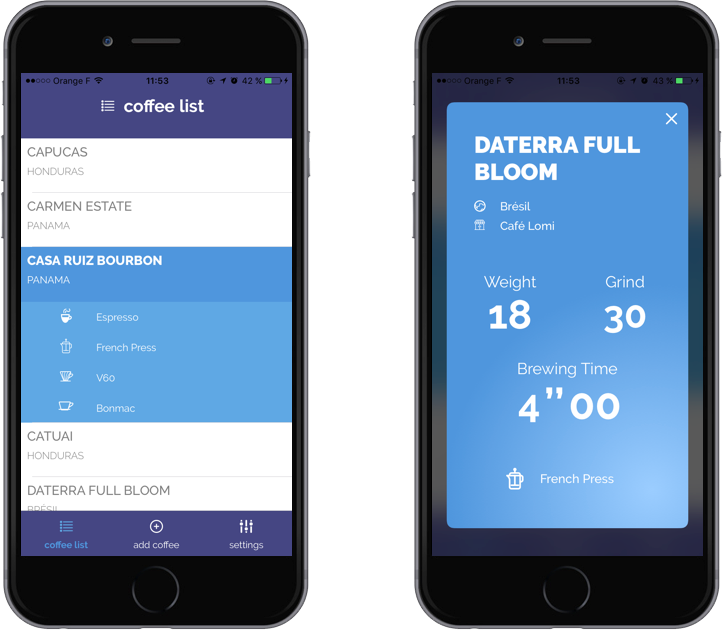 That app is in
beta version
and meets the minimum requirements, but a few things are frustrating me and I'm currently
analysing with my beta testers
 and
a few baristas around the world
how they use the app, what works and what is missing to meet their needs.
So I'm working on the next prototype version, thinking the navigation differently.
The tab bar is a great tool
and we're currently seeing its revival, everyone is doing tab bar, most of the time for no reason.
When thinking twice, my tab bar is presenting three features
that doesn't have the same importance level
and that simplify the interaction a bit too much : the user doesn't have to validate that much, simply tapping the tab bar to go on another features save your settings, and keep what you typed in memory. This is simple, efficient and … well … counter intuitive. More users testing on prototype could have solved that problem earlier.
On top of that, the tabs interact with each other (your brewing method settings has an impact on each other screen), forcing to reload data all the time which is not the most programmatically efficient solution.
Features to come :

- Navigation improvement
The settings and "add a coffee" features will be modally presented in full screen with a cancel and a validate button on top of screen. This is the top priority.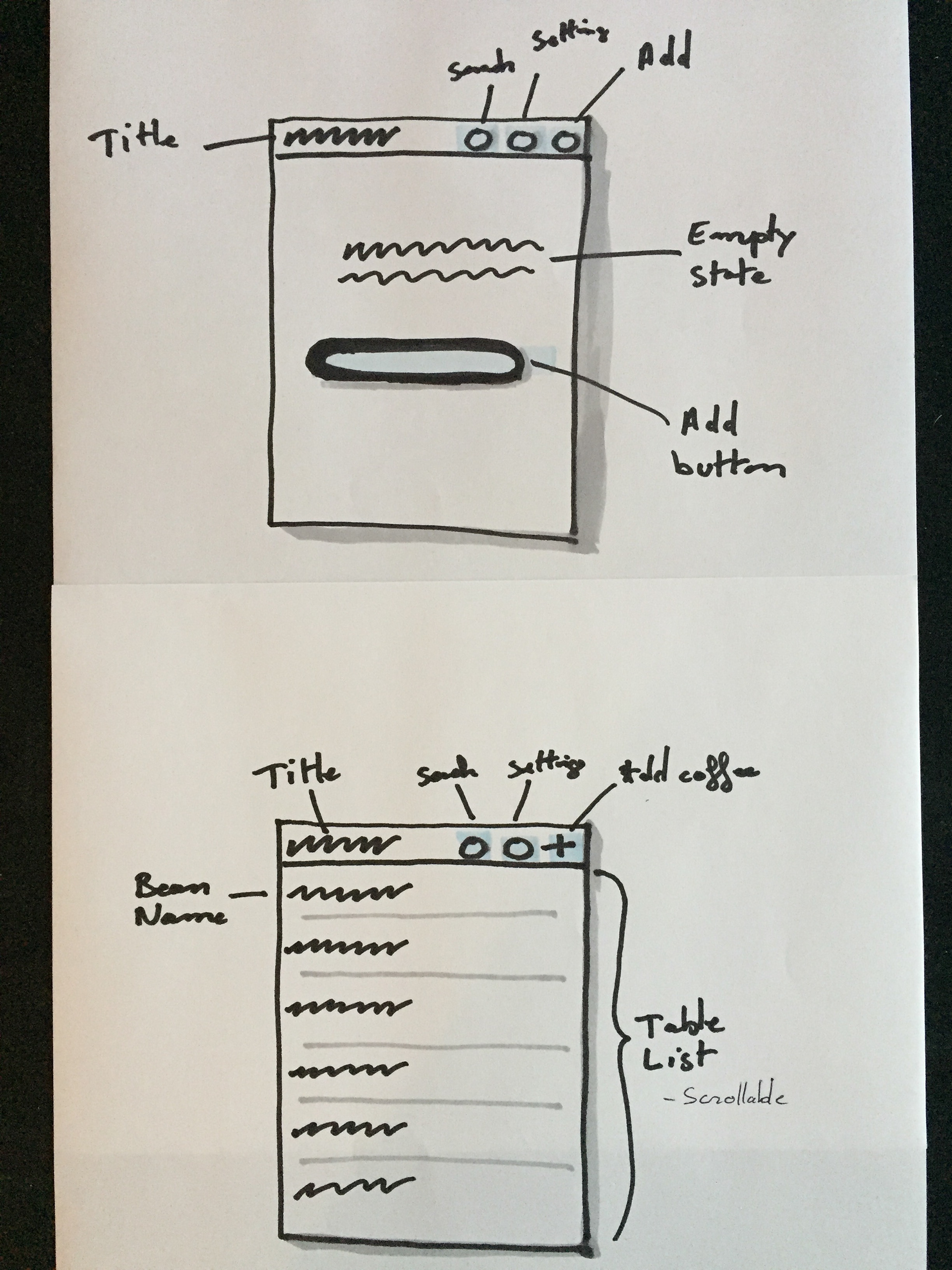 - Complete range of setting
More settings to play with. Instead of just the grind setting and the bean weight, I'll add the usual complete tools needed to tweak your brewing settings :
Bean - water ratio / Bean weight / Water quantity / Grind setting / Water temperature / Brewing time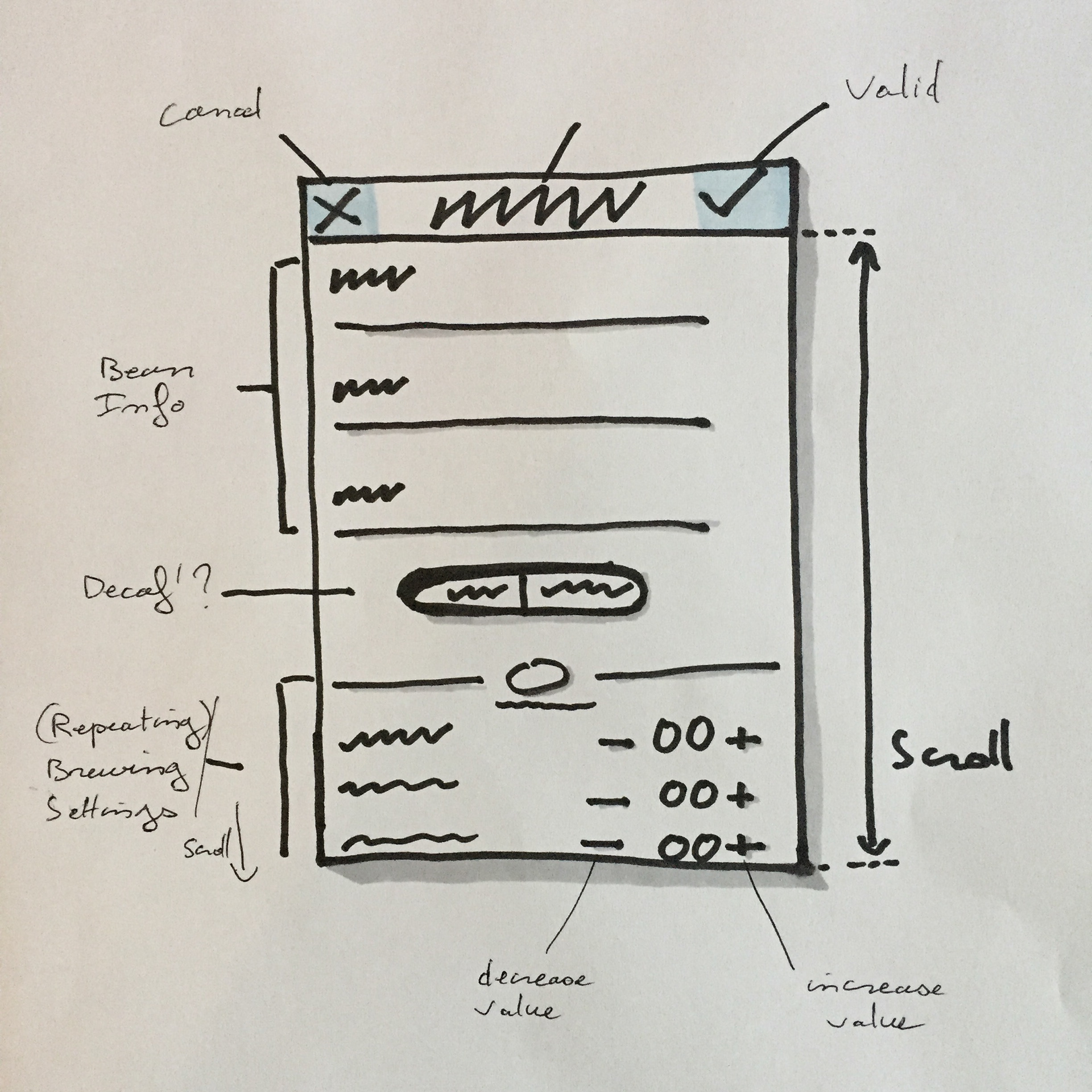 - Timer
A functional timer instead of just indicating the brewing time needed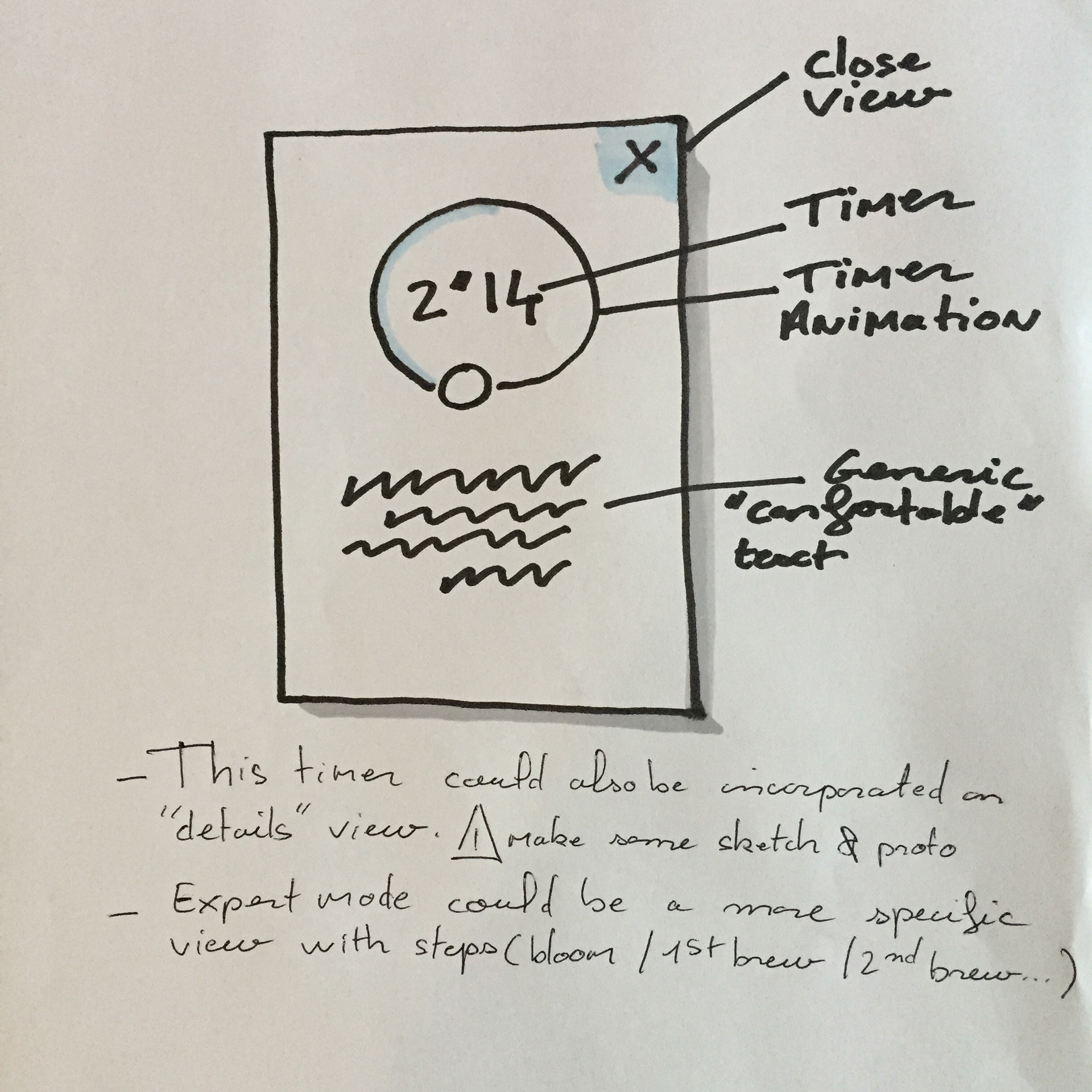 - Search & Filter
A search function to sort and filter the coffee list
- Default settings
Default parameters depending on the brewing method instead of zeros or empty fields. This will lead to a brand new coffee card that would need many more fields and information to display
- Beginner coffee enthusiast friendly
Two different modes: 
an expert mode
with all the fields and precise input and
a beginner mode
with a lighter interface, defaults settings and more intuitive (but less precise) way to tweak the values. Something that would guide the user with real life value like
"stronger / lighter" "more or less acidic" "more or less sour"...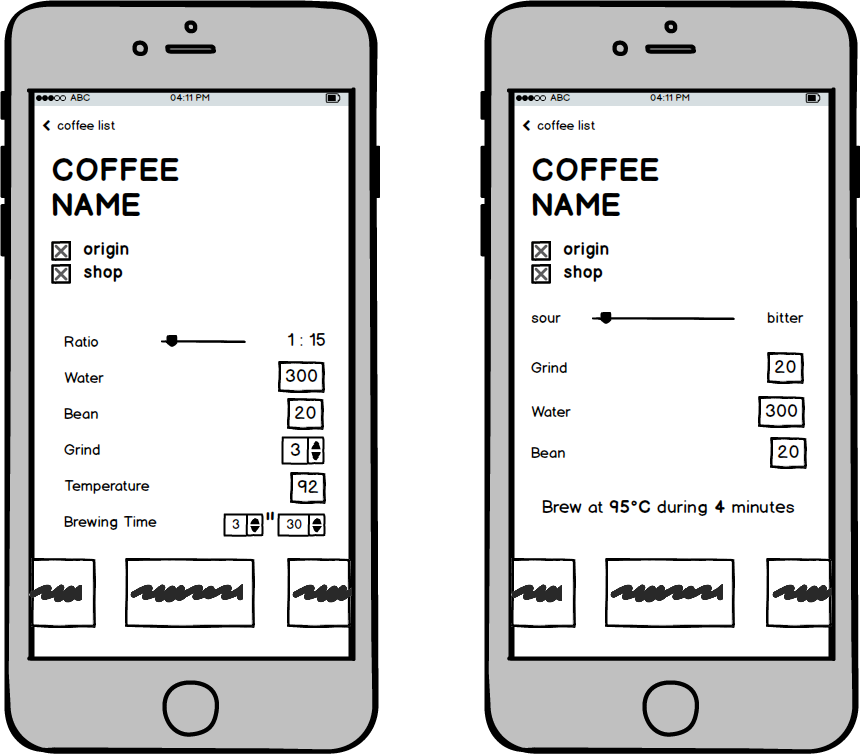 For now the app is on beta testing phase by some coffee nerds and baristas (around 10 peoples).
I track activity with 
Google Analytics
 which does a great job for now.
I'm already working on the next version in order to launch a not totally complete but still useful version on the app Store during November.